Why Microsoft Business Premium Licenses Offer Your Small Business the Best Value for Money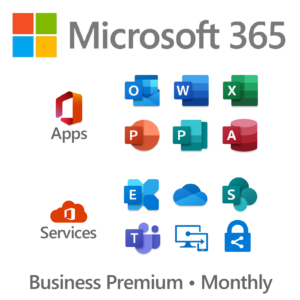 Introduction
In today's fast-paced and competitive business landscape, small businesses require robust and cost-effective solutions to stay ahead. Microsoft 365 Business Premium Licenses, offered by Microsoft, provide an array of services and features that empower small businesses to thrive. In this blog post, we will explore the various components of Azure Business Premium Licenses and highlight the value they bring to your small business.
Azure Active Directory
One of the key features of Business Premium Licenses is Azure Active Directory (Azure AD). Azure AD serves as the identity and access management solution for your organization. It allows you to control user access to various applications and resources, both on-premises and in the cloud.
With Azure AD, you can implement single sign-on (SSO) functionality, which enables your employees to access multiple applications with a single set of credentials. This not only improves productivity but also enhances security by reducing the risk of weak or compromised passwords.
Office 365 Business Premium
Another significant component of Azure Business Premium Licenses is the inclusion of Office 365 Business Premium. This comprehensive suite of productivity tools provides your small business with the essential applications needed to streamline operations and collaboration.
Microsoft Exchange Online:  Enjoy enterprise-grade email hosting with a custom domain name, ample storage, and advanced security features. Exchange Online ensures reliable email delivery and includes shared calendars and contacts for efficient scheduling and communication.
Microsoft Teams:  Collaborate seamlessly with your team through chat, audio, and video conferencing. Teams integrates with other Office 365 applications, enabling real-time document collaboration and project management. Create channels for different teams or projects, share files, and track progress.
SharePoint Online: Create an intranet portal for your organization to store, organize, and share documents and information. SharePoint Online allows for centralized content management, version control, and collaboration on projects. You can create team sites, document libraries, and custom workflows to streamline business processes.
OneDrive for Business: Store and sync files securely in the cloud, ensuring access from any device. OneDrive for Business provides each user with ample storage and advanced sharing and collaboration capabilities. Share files with internal and external stakeholders, set permissions, and track document versions.
Office Apps: Access the full suite of Office applications, including Word, Excel, PowerPoint, and Outlook. These powerful tools enable your employees to create, edit, and collaborate on documents, spreadsheets, presentations, and emails. Benefit from the latest updates and features, ensuring your team stays productive and efficient.
Advanced Threat Protection and Information Protection
Business Premium Licenses offer advanced security features to safeguard your small business from cyber threats and data breaches.
Advanced Threat Protection (ATP): Protect your organization's email and documents from sophisticated malware, phishing attempts, and other advanced threats. ATP analyzes email attachments and links in real-time to identify potential risks, preventing malicious content from reaching your employees. It also provides detailed reports and insights to help you understand and respond to threats effectively.
Information Protection: Safeguard sensitive data with Azure Information Protection. This feature allows you to classify, label, and protect documents and emails based on their sensitivity level. You can control access permissions, track document usage, and prevent data leakage. Information Protection ensures compliance with data protection regulations and instills customer trust.
Azure Intune:
Azure Business Premium Licenses also include Azure Intune, a cloud-based mobile device management (MDM) and mobile application management (MAM) solution. With Intune, you can manage and secure your employees' devices and applications.
Overall it offers great value compared to their standard 365 offering, whilst offering many of the features of the E3/E5 higher tier enterprise licenses for around €22.00 per month per user.
**Note pricing taken from 24/06/23 and may be subject to change